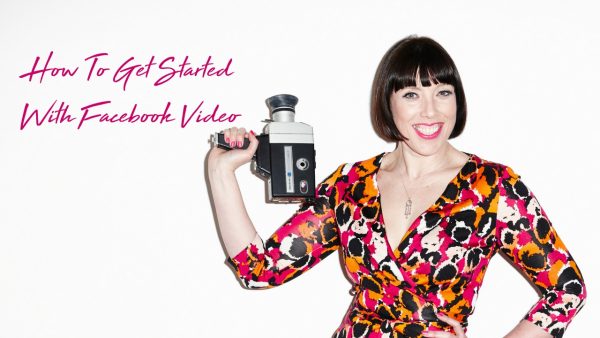 In today's free Facebook training, we are going to be talking about video and how you can use it to give your Facebook engagement a real boost
. Now, it can be a little bit scary, but you don't have to do this. You don't have to talk to the camera.
There are lots of different options that I'm going to be sharing with you, and I'm going to be giving you some great examples that you can use
. Let's get started.
Business Pages Using Facebook Video
We're starting off with the Quirky Momma blog, and as you can see, they are sharing a video of a recipe.
Their Facebook page
is targeted
at people with small children, so it's all about things being easy and quick
.
Now, if there is anything in your business that you can
demonstrate
or show people, video is a fantastic medium for doing that
. Any business can take a bit of inspiration from McQueens, who do the lovely videos of what it's like to be there. This is an example of what it's like to attend their flower school.
They're giving little testimonials to help people make a decision whether to attend this school
.
Even if you're not trying to promote a specific product or service, giving extra insight into your business can help break down barriers
. People get a better gist of the type of company you are and whether they want to do business with you. Now, it's not about telling people how to do things or selling products.
Kleenex have an entertaining video about the Oscars, and they've incorporated the product in a fun way
.
Video is a great place for sharing your product. This is a video that I've used, and it's sample model shots from my supplier. I've used a tool called Animoto.com to add a little bit of interest to it. It's easy. You don't need any amazing skills. And you've got a cute little video that's going to get you a lot more engagement than a static image.
How To Upload Your Facebook Video
Hopefully
that's inspired you to come up with some ideas for your business.
If you stick with the main types of content to share; informational, educational and entertaining, you're not going to go too far wrong
.
Let's look at how you actually share a video. You click on, share a photo or video. It's simple. Click on upload photos or video, and I am going to upload this little teaser. Very short. Seven seconds. This brings me to a good point about the length of videos. People have a very short attention span, so seven seconds, 15 seconds for a video is fine. If you have something you want to share or do a how-to video, you can extend that out. But Facebook is not the place for anything over two minutes at all.
Your video has uploaded, and you can add some text about it. Add a title to your video, and then add some tags to it. I can actually tag my supplier's Facebook page, so they'll get notified of it, and I can then use some keywords. It's not relevant for this video, but captions are a good idea if you're doing any videos with any speech. So many people are watching your video on their mobile it may not be convenient for them to listen. If you have subtitles over your video, it's going to help get your message across.
The easiest way to do this is use a company called Rev.com, and they will transcribe your video. They provide you with an SRT file. you can upload to Facebook, which will add captions on your video.
Once you publish your video, it will appear on your timeline, and it will appear in your fans' newsfeeds where it will autoplay
. This is one of the reasons it's so much more engaging than an image.
Now, because it autoplays, you want to make sure that there is some type of movement in the first couple of seconds to attract people's attention
.
Facebook Page Video Area
Now, all your videos
are kept
in the video section of your Facebook page. You can choose to have a feature video on your Facebook page. This could be an introduction to your business, some latest news, or a product launch. Then you have the playlists. This is a way of grouping videos together that have a common related theme. Then underneath, you see all the rest of your videos.
The reason video is such a big deal on Facebook is because it gets more organic reach. Your video will
be seen by
more people without you having to pay for advertising than any other type of content. Check the insights section of your page. There's a video here. You can see it's got the video icon. That organic reach was 814, where with other posts, I'm looking at only 600. 600, 500. Video can help boost the number of people that see your page's worth investing a bit of time. You don't have to have any fancy equipment. If you have a smart phone, you are good to go with video.
Top 5 Facebook Video Tips
1. If you're doing a video talking head make sure you talk to the camera. It's a bit freaky, but once you get used to it, you realise where you're meant to be looking.
2. Make sure that you're holding your phone the right way. It's got to be horizontal, not vertical. Rookie mistake.
3. You also want to make sure there's a bit of movement in the first couple of seconds to attract attention.
4. If you're doing anything with speech, you want to add some captions. People can read it if they can't listen to the audio.
5. Finally, keep it short and sweet. Long videos, stick them on YouTube. Short videos, Facebook.
I hope you found that interesting and you found some useful tips to get going with videos on Facebook. Make sure that you don't miss out on my next free Facebook training tutorial by subscribing.