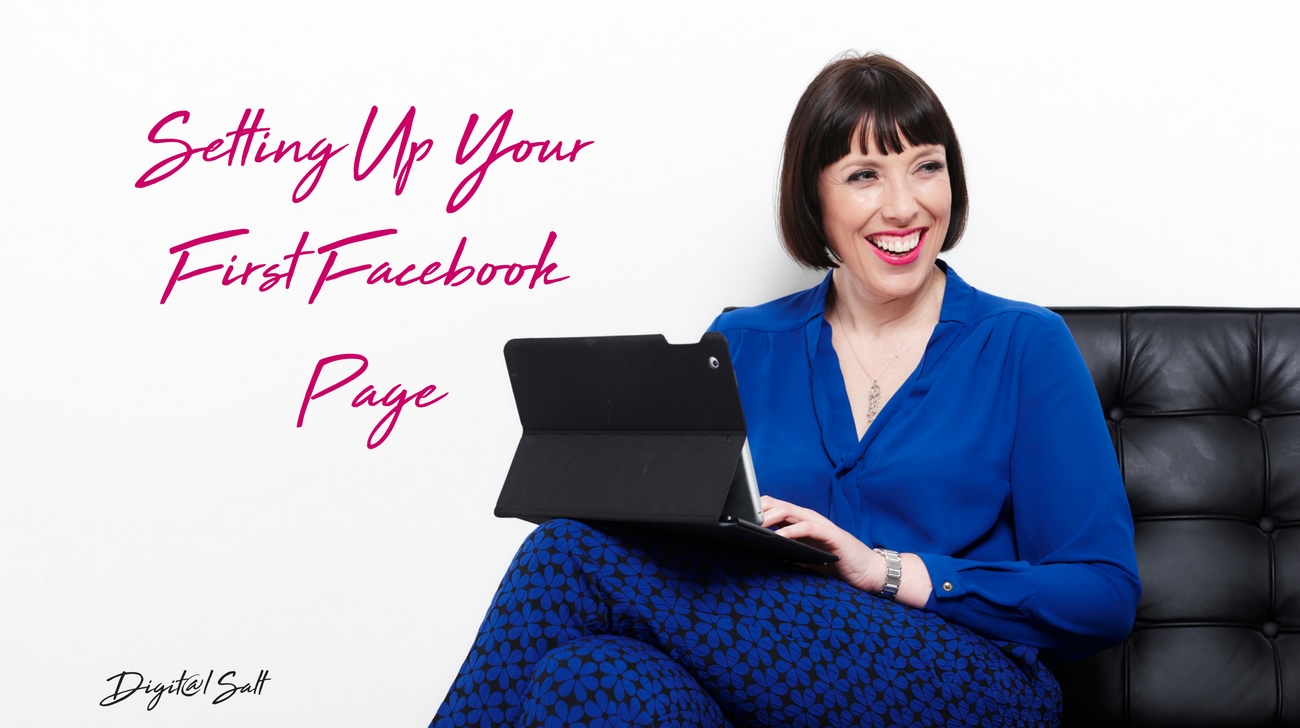 Welcome to the first of the Facebook Training Tutorials, each week there will be a new one helping you step by step to use Facebook to boost your business. I want to make it easy for everyone to find the answers to all their Facebook questions.  If you have any burning questions add them in the comments below.
Setting Up a Facebook Business Page
Are you looking to get your business on Facebook? Well in this tutorial I'm going to take you through setting up your first Facebook page. My name is Katherine Salt and I'm going to take you from being a Facebook zero to a Facebook hero. Helping you drive more leads and sales to your business.
Let's get started with setting up your first Facebook business page. You have to set up your business page through a personal profile. So, go to your personal profile and have a look on the left-hand side and you'll see at the bottom here a little section that's called create. Click page.
Now you have a choice of different types of business , most of you will probably be fitting in the local business of place option. So we're going to selection that this is where you chose what type of business you are. I'm going to set up a page for a retail outlet. And this retail outlet is going to selling things like salt and pepper.
Facebook Page Profile Image
• The image dimensions should be 325px by 325px
• Use a clear colour image, your business logo is ideal
• Keep your profile image the same so people recognise posts from your page.
• Add an image description
You can change the size. You can also choose to edit it with different filters, add text, cute little stickers, or even add a frame around it. I do all my editing of my profile image before I upload it. I find it easier.
Facebook Page Banner Image
The next step is to add a banner image. Canva.com is a free graphic design program that has templates already in place for your banner image. It makes it really super simple. Now in one of the upcoming tutorials, I'm going to be going into much greater detail about how you can make the most the banner image. Don't miss the banner tutorial either subscribe or join my email list.
The About Section & Page Info
This where people tend to fill in really quickly, but there is a lot of opportunity. In your short description, you only have 150 characters. It's a tagline on what your business is about.
Next section, help customers find your place. This is where you put a street address, you can choose to show the map on your page. This is very useful if you want people to come to your physical location. And you can play around with the map to make sure it's clear where you are.
Now we're going to into depth about all the different page info you can add to your Facebook page. You can see here you've got the name, the categories that we put in when we did the set up. And then you can add subcategories, by adding more subcategories you are helping more people find your business. I'm going to add food shop. When you start typing it comes up with different suggestions, so it's a case of spending a bit of time to find what the relevant fields are for you.
In the description section you have thousands and thousands to play with that you can add in here. Use it to talk about your business. Talk about what is going to happen on the page, and if there are any terms of service. Impressum them it in what it says. Have you won some awards? Have you done anything particularly impressive you can add in there?
Then is your contact details. Pop your phone number in, your website, email. All of these are very helpful to pop in. As you can see here, it hasn't found my exact location, so I can move that around to make sure it show up. Is there any parking near my business and what are my opening hours? This is really handy because if someone visits your page they can get an indication of whether the business is open or closed. And then what sort of price range.
It's easy to miss, but click on see all information. And you will see what people see when they visit your Facebook page. You can add in the start date of your business and add in other accounts. You can link to Instagram or Snapchat and all these different accounts if you have profiles for your business. Then there is a privacy policy. If you have a privacy policy on your website, put a direct link there. And that is the basics of setting up your first Facebook page.
Thanks for watching and make sure you subscribe or sign up to the email list so you don't miss the next in the Facebook tutorial training series. Next time we are going to be talking about all the different settings in the back end of your Facebook admin area, and this is going to be great if you're new to Facebook or if you've have a Facebook page for a long time and you need a little bit of a refresher on what's changed and what you need to pay attention to.