Hashtags, what are they, how do you use them and where?  Incorporating hashtags in your social media activity can be confusing.  You want them to use them help get your posts in front of more people but you don't want to be annoying. Yes I'm talk about those people who share their Instagram post on Facebook with it's gazillion hashtags! Getting in front of your audience, without putting your cash into advertising, is a huge challenge for small businesses.  Using hashtags in the right place and at the right time can get your content in front of thousands more people.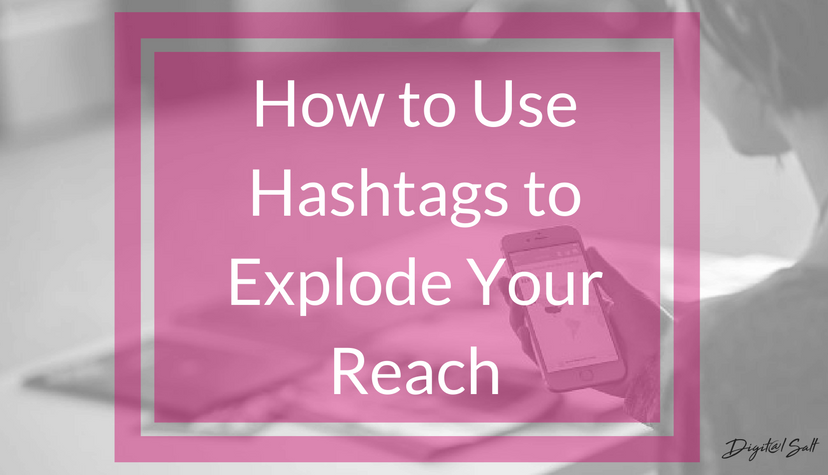 What is a Hashtag?
Okay so lets start with having a look at what a hashtag is and what it is used for. A hashtag is a clickable link to all other content that uses the same hashtag, it helps group content by topic.  If you are a fan of Game of Thrones, and you type #GameOfThrones in to search you will see all the tweets, accounts, photos and videos related to it.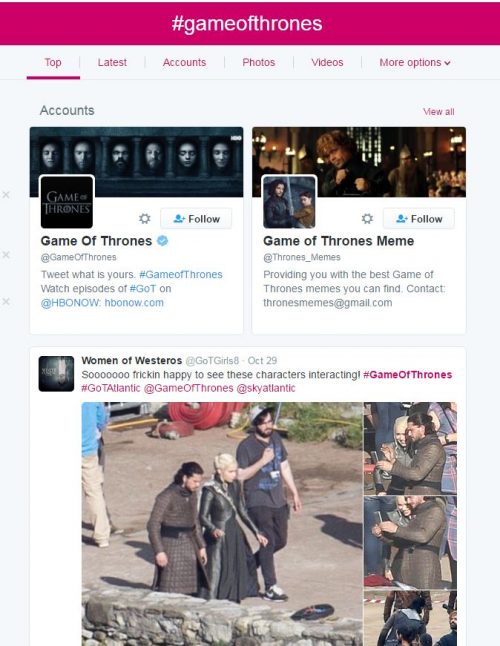 A hashtag is a word or phrase that is preceded by the hash symbol #.  There should be no gap between the symbol and the word or phrase and there should be no gaps in the phrase. If you want to differentiate between words opt for capitalising each word i.e. #GuideToHashtags.   Ditch the punctuation and stick with letters and numbers and you won't go wrong.
Why should I use hashtags?
Events
Hashtags are great for curating all the tweets and updates about an event from all the attendees.  If you search for #leadershipjsy on Twitter you will see all the tweets related to a one day conference I attended.  Hashtags help you find people who are at the same event and keep track of what people are saying about the sessions. Organisers can use them to to share important information and get to know their attendees.
Advertising
You can use an existing and popular hashtag to advertise your business.  On the left hand side of your Twitterfeed you will see the top most talked about topics.  By getting involved with the conversation your tweets will be seen by everyone who searches on that hashtag.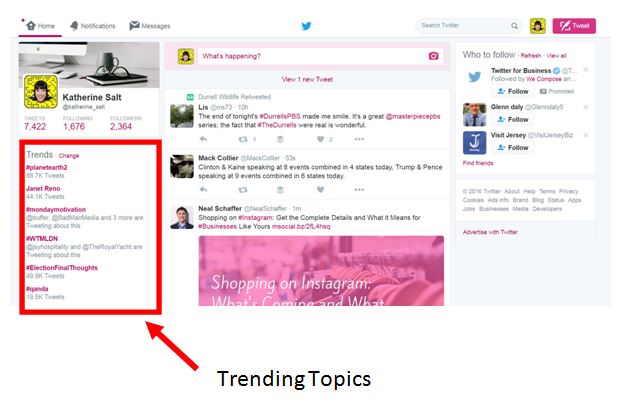 Riding the wave of popularity has to be done with care and a dose of common sense. Many a business has come a cropper by not bothering to click through and check what the context of the trend is.  DiGorno Pizza tweeted using the hashtag #whyIstayed with out reading the other related tweets. A minute spent clicking through and reading the other tweets would have made it clear that the trending topic was related to domestic violence. Not an appropriate topic for promoting pizza!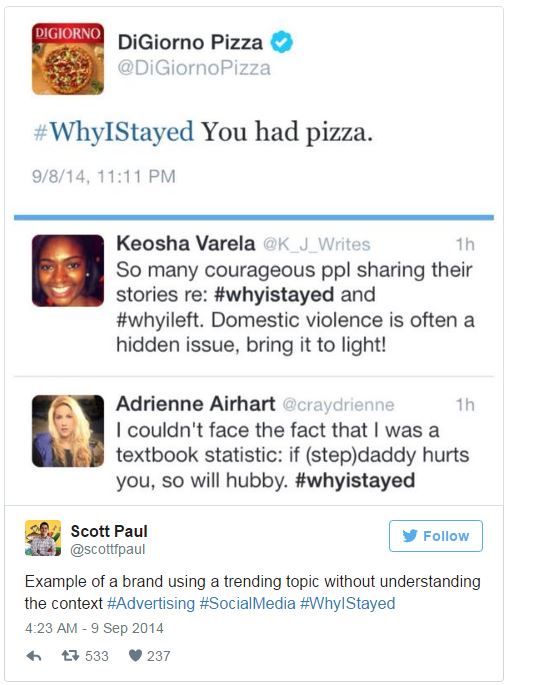 Conversations
Group conversations can be tracked by using a specific hashtag. This is used on Twitter for organised chats, giving you the opportunity to tweet with people in your field of interest.  They are fantastic for networking and getting to know other people in your industry from around the world.  To keep track of the conversation there is a helpful tool, Tweetchat.  This tool filters tweets so you only see the ones with the relevant hashtag. It allows you to slow down the tweet stream to help you keep track of what is going on.  If you want to find out more about Twitter chats and how they can help your business check out this article. Twitter Chats: How Marketers Can Benefit From Twitter Chats
Promotions
Using a hashtag in posts and tweets about a promotion will help you keep track of it's activity.  Competitions are a great example of how hashtags can  ensure you capture all the entries. To enter the competitions everyone needs to use a specific hashtags.  The hashtag means that the competition entrants can be tracked over multiple platforms, Instagram, Twitter and Facebook. Superdry promote their latest competition on their website and entrants have to use the hashtag #mysuperdry.  Entrants can choose which social media platform they prefer, broaden the appeal of the competition.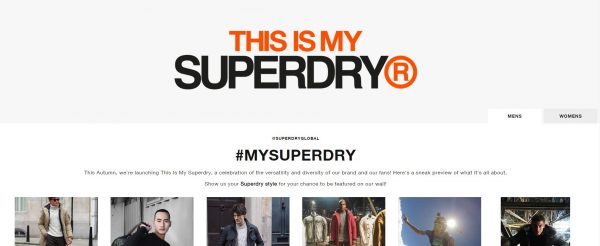 How do I know what hashtags to use?
Any word or phrase can be used for your hashtag.  A few tips on choosing your hashtags;
If you are using the hashtag for an event or promotion do a search on Twitter to make sure no one else is using it.
If you want people to find your content do a search to see if other people are using it and if the context is the same.
Keep it short, especially for Twitter where you only have 140 characters to play with.
Read it through to make sure it can't be misread,  like this one from Susan Boyle's Twitter account.

Can I use hashtags on all social media platforms?
Twitter
Yep crack on, Twitter is where the hashtag as a searchable link originated. Stick to one or two as the body of the tweet still has to be readable and have some value to it.
Facebook
Yes, and as using Facebook search is a pretty unrewarding experience hashtags are a great idea but don't expect the same amount of traffic as you would get from Twitter. Most accounts on Facebook are private you are most lke to see hashtags from business pages or influencers.  Even though you have heaps of space on Facebook it's best not to load up your update with hashtags.  It's off putting a looks spammy.
Instagram
Go wild!!! You can add up to 30 hashtags to your Instagram post.  If you aren't using hashtags on Instagram you are missing out on the key way to grow your presence.  To maximise your success experiment with the hashtags you use.  Check out the influencers in your field to see what tags they use.  To save you typing in your hashtags for every post save them as a note on your phone so you can copy and paste to save you time.
Pinterest
Hashtags are clickable links when used in a pin's description.   If you use too many it may impact your appearance in search, according to this article on Pinterest Business Blog. Pinterest search uses the description and board names, so there is a limited benefit for hashtags.
LinkedIn
LinkedIn has been flirting with hashtags. They are currently only clickable in the app but they will be available to click through on the desktop app 'soon'.  Pinterest search uses the description and board names, so there is a limited benefit for hashtags.  With 58% of LinkedIn visitors using the app it's worth experimenting to see if they drive more traffic to your website.
Hashtag Takeaways
Keep your audience in mind when using hashtags. Hashtags are designed to help people find interesting content not so you can push products.
Get on board with trending topics, check the context and get involved with the conversation.
Experiment to find the most effective hashtags for your business.
Use bespoke hashtags for competitions, events and your brand.
If you want more great tips sign up for the monthly free Spice email.